Das Windows Home Server Power Pack 1 bringt eine Funktion mit sich die Windows Home Server Data Backup heissen wird. Steckt man in Zukunft eine Festplatte an den Windows Home Server an, so wird man nicht nur gefragt, ob man die Festplatte dem Speicherpool des Servers hinzufügen möchte, sondern erhält eine zweite Option.
Diese neue Option ermöglicht es, die Daten auf dem Windows Home Server auf einen externen Datenträger zu speichern. (Siehe erster Screenshot)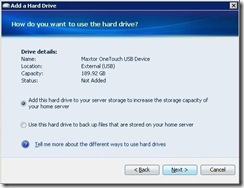 Nach der Auswahl dieser Option erhaltet Ihr dann die Möglichkeit die Daten zum sichern auszuwählen. Dazu kann einem freigegebenen Ordner des Home Servers jeweils ein Ziel zur Datensicherung zugewiesen werden, muss aber nicht.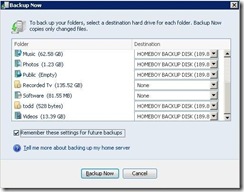 Ähnlich wie beim Computer Backup können auch beim Data Backup Dateien selektiert und zurückgeholt werden (Restore)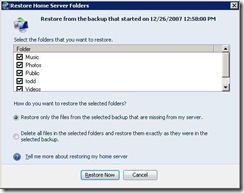 Selbst die Sicherung der Computer Backups auf den externen Datenträger sind möglich, wie man im letzten Screenshot sehen kann.
Das Windows Home Server Power Pack soll laut Microsoft Angaben im Früjahr, bzw. der ersten Jahreshälfte erscheinen.
formerly code named "UR1", will ship in the first half of 2008 and be made available to existing customers of Windows Home Server via Windows Update.
Original Bilder unter: Windows Home Server Team Blog