English text available at the end of this article!
Heute ist es endlich soweit! Andreas M. hat mir gerade das fertige Reporting Tool übersendet, mit dem wir ab sofort Informationen über Add-Ins einsammeln wollen, um aus diesen später einen genialen Service für Add-Ins anbieten zu können. Wir freuen uns über jeden Entwickler, der ab sofort unser Tool nach der Veröffentlichung einer neuen Version seines Add-Ins nutzt, davon aber auch selbst profitiert.
Wie funktioniert es?
Zunächst kann jeder Entwickler, oder einfach auch jemand der Lust dazu hat, mit dem Home Server Blog Add-In Reporter Informationen aus einem Windows Home Server Add-In MSI Paket auslesen und diese Daten dann an einen zentralen Webservice senden, den Andreas bereitstellt.
Welche Daten werden gesammelt?
Wir sammeln mit diesem Tool nur Daten aus dem MSI Paket. Dazu gehören der Name des Add-In, die Version, der Paketcode, Hersteller und weiteres aus dem Paket.
Warum machen wir das?
Wir sammeln durch dieses Tool immer die aktuellen Informationen über neue Versionen von Windows Home Server Add-Ins direkt von den Entwicklern. Diese Informationen werden zentral gesammelt und dann mit weiteren Zusatzdaten, wie einer Beschreibung von uns, einer Bewertung und den benötigten Download-Links und so weiter versehen. Wir arbeiten gerade an einem neuen Add-In für den Home Server, welches dann all diese Daten aus dem Internet laden kann und in Eurer Home Server Konsole anzeigt. Ihr erhaltet damit auf dem Home Server ein komplettes Add-In Verzeichnis, so ähnlich wie bei einem Telefonbuch. Zusätzlich wird dieses Add-In Eure installierten Add-Ins prüfen, dann vergleichen ob Ihr schon die neuste Version einsetzt und Euch gegebenenfalls einen Hinweis auf das Update geben. Die Bewertungen von anderen benutzern können Euch dann schon mal einen Hinweis auf die Tauglichkeit geben.
Das Tool findet Ihr unter diesem Downloadlink:
http://dl.dropbox.com/u/2819042/HSBAddInReporterInstaller.msi
Nach der Installation findet Ihr auf dem Desktop einen Startlink.

Im folgenden Screenshot seht Ihr das Tool. Hier könnt Ihr die MSI Pakete auswählen und der Liste hinzufügen. Nach einem Klick auf die Schaltfläche "Send Report" werden die Daten an einen zentralen Webservice gesendet.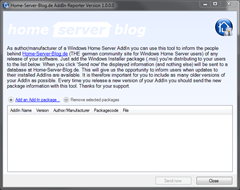 Falls ein MSI Paket kein Windows Home Server Add-In ist, wird es in der Liste mit einem Ausrufungszeichen angezeigt und kann nicht eingelesen werden.

Korrekterweise wird es aussehen wie im unteren Screenshot!

The Home Server Blog Add-In Reporter is a new software from Andreas M. which will help us to create a centralized Windows Home Server Add-In Repository with the newest update information directly from the add-in developers. As a developer you can use this tool to automatically send your MSI / Add-In information to a web service. Your data will be combined with some description and user ratings for the add-in and then compiles into a XML file. This XML file will be used by a new Windows Home Server Add-In which will be released soon and offer a AppStore like option for Windows Home Server users. This service is free! The Windows Home Server users will have a nice list of add-ins with ratings, download links, forum & support information and much more. Also the new Add-In will check the installed version of add-ins and check those against the online information. Load of benefits for you and of course for your users. We hope to get your support. The reporting tool is available in English/German and also the Add-In will be so.