Alex Kuretz, der Entwickler des Add-Ins Remote Notification hat uns Bescheid gegeben, dass eine neue Version des Add-Ins zur Verfügung steht.
Wer Remote Notification noch nicht kennt: es informiert einen über den Status des Home Servers egal wo man sich befindet, z.B. durch Status-Reports per Email.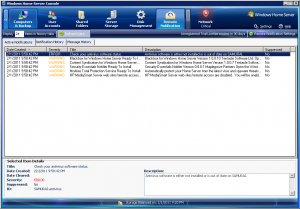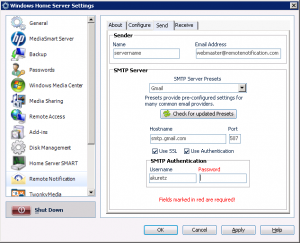 Die Version 1.5 von Remote Notification wurde von Grund auf neu geschrieben und ist jetzt ein komerzielles Add-In. Eine Lizenz kostet 15 US-Dollar.
Innerhalb einer 30-tägigen Testphase kann man sich von den Funktionen überzeugen, danach schaltet das Add-In in einen sogenannten "Lite-Mode", dessen Funktionsumfang etwa dem der vorherigen Version 1.0 entspricht, inklusive dem Konsolen-Tab.
Die Vollversion hat diese Features:
Receive your Home Server health alerts in your email inbox
Receive your Home Server health alerts on your mobile phone¹
Control the health alerts that are sent based upon severity level
Control the health alerts that are sent with custom text filters
Control when health alerts are sent with Notification Schedules (Do Not Disturb)
Send the alerts to as many recipients as you want
Easy setup of your email settings with SMTP Presets
Be confident that your server is functioning properly with Daily Reports via email
Monitor your Home Server health alerts via RSS Feed
View your Home Server's health alert history for alerts you may have missed

¹ Requires that your mobile provider offers an SMS Gateway. Regular text messaging fees will apply based upon your service provider and plan.
Das Add-In läuft nur auf Windows Home Server v1 (über Versionen für WHS2011 bzw. SBS2011 Essentials wird nachgedacht) und benötigt das Power Pack 3.
Weiters unterstützt das Add-In momentan nur Englisch-sprachige Home Server, auf einem deutschen WHS stürzt das Add-In beim Installieren ab. Der Entwickler hat uns aber versichert, dass das Problem im nächsten Update behoben ist. *Update*: Die aktuelle Version 1.5.0.2 behebt das Problem und funktioniert nun auch auf einem deutschen WHS.
Mehr Infos: Remote Notification Webseite